We met Andrea in 2018 when our teacher Arvind Pare, visited us to offer an immersion course in yoga philosophy. He introduced us to Andrea Panzer a senior and experienced Yoga teacher and her partner Govinda, who is an international artist and musician – multi-instrumentalist in Classical Indian Music.
They came to spend the weekend with Arvind and us offering some of their great talents to everyone that attended to this beautiful weekend.
This year,  as they just made what it looks to be a permanent move to Southern Spain, and having them closer to share we made the decisión of inviting Andrea Panzer as our guest teacher in one of the yoga retreats we hold (we will be hosting? Or offering?) in our home studio at Novo Sancti Petri. Cadiz.
We would like to give you all the opportunity of meeting Andrea Panzer more in depth through this interview.
First we would like to summarize Andrea's yoga background so that our readers have an idea of her wide experience.
Andrea has been trained in the tradition of students of Sri T. Krishnamacharya:
BKS IYENGAR YOGA - my first two years of YOGA TRAINING was BKS IYENGAR orientated, thanks to Mikel Forbes

ASHTANGA VINYASA YOGA / SHARATH JOIS, MYSORE - AUTHORIZED by SARATH student / LEVEL II.
VINI-YOGA- with Sri RAM That For me, that was the "first clear link¨ to Sri T. Krishnamacharya.

YOGA TEACHINGs of SRI K SRIBHASHYAM - the youngest son of Sri T. Krishnamacharya. 

VINYASA KRAMA / instruction as a Teacher Training with SRIVATSA RAMASWAMI in Los Angeles at 2015 (200hrs Yoga Alliance) & instruction of Core VINYASA Yoga, May 2015, in London S. RAMASWAMI who studied with Sri T. Krishnamacharya for a period of more than 30 years.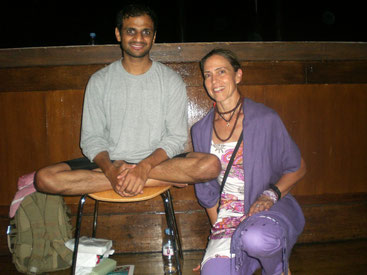 Dear Andrea thanks for accepting having an interview for our blog and this is a good way to introduce your experience and your knowledge to our past, present and future students and  also followers on the media.
·   R.A: Reading about your background, it looks you started quite young to be interested in a physical and spiritual practice, how old were you when you started your quest? And what led you to follow this path? was It something that came from your family? Or from friends? Or simply was it something inside you?
Andrea: Thank you Esther and Cristina, for giving me the opportunity to answer your questions about my yoga way!
I will answer your questions right from my heart. I feel it was something inside me, that led me on my way – a search for something beyond  -  for example, together with a girlfriend, I did  a demonstration of a yoga flow when we were 12 years old, in our school, just everything we managed to do in the lotus, we put together in a flow, starting from Samasthiti. Only later I found, that here where proper yoga positions like Padma Parvata Asana.
Then,  when I was about 14,  there was a friend who gave me Hermann Hesse's "Siddhartha" to read, a book about the spiritual quest of Gautama, the Buddha.
When I have been about 16, I experienced serious back pain, may be because of the scoliosis. Little later, and eventually because of this,  I started with Tai Chi Chuan, as I heard it could be a therapy for my back and also I have been reading a book about , which talked about the transformation of consciousness to discover the ultimate truth by learning this art – and I connected the Tai Chi dance to the dance of the archer. I had an interest in Philosophy, which subject I studied later on, and finished it with a work that referred to the "Tao of Physics", a work about the spiritual background of the material. So first I learned Tai Chi Chuan, and over this practice, I went deeper in the philosophy behind it, the Tao and Zen. Only later, again through an illness, I remembered a book about Sivananda Yoga which I obviously kept at home and about Luna Yoga, and started with balancings and inversions to stabilize my body in a different way as Tai Chi did it. Like this I looped back to Yoga, if we want to label that, which I did as a child, out of Love to Padmasana (the Lotus).
·    R.A: How would you define your first steps in the yoga world? How was your practice in the past?
Andrea: I started with Yoga mainly for better health and I could do some nice positions and had fun to teach others. I loved the conscious bodywork. I had little knowledge about yoga, but some experience as a teacher of Tai Chi, which I taught for about 15 years. There, I have been trained to help others to do positions correctly, with a "feeling" for that, what they are doing mentally and internally. How they use their energy.
So I had the feeling that I am able to teach and help others also in Yoga. I started a teacher training nearby, and that happened to be a BKS Iyengar Yoga Training.
Before that time, when I started with yoga, I have been connected to the path of meditation on light and sound. Again, inspired through  books I have read before – one, from Irina Tweedy "Like Phoenix out of the ashes" , which was a biography of a woman, who met her spiritual master who was from the sufi-lineage, and the other was a book about meditation - I saw a announcment that a master of this tradition will come to Cologne. There I went and started an intense time with meditation.
So I had some background – but at the same time – from the perspective of today – it was just a beginning. That which deepens the path, is the experience of an intense practice, with dedication for the way -  which for me came through Asthanga Vinyasa Yoga.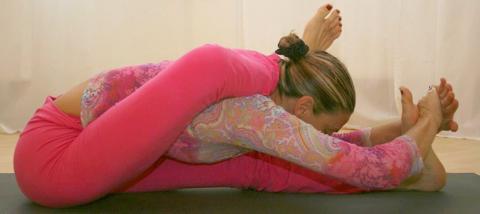 ·    R.A: What has the yoga practice brought to your life? And how has it evolved along the years?
Andrea: For my daily life yoga brings a lot of stability of  body & mind. I am feeling ways more awake, alive, light and focused. I have much more energy. All that helps me  in my life, my work and communication.
For my life in general it stabilizes the spiritual dimension of life -which I loose very easily, may be like many of us in the west. We   do not grow up in the west, with that unquestioned devotion to the divine, to the source however you name it.
Starting the day or going back to Pranayama and Meditation in the late afternoon – loops me back and nourishes my soul. That´s why, Asanas should be balanced by  Pranayama and Meditation  - they support us in our quest and strengthen our link to the all pervating source.
·    R.A: From all the different teachers and approaches/styles  that have been part of your training,  if you would have to highlight anyone or anything as inspiring for you…….? Who or what would it be?
Andrea: I am inspired by people where I can feel their open heart vibration, and who have or experienced that unwavering trust in the spiritual dimension of all that whats happening or not. That is what I am searching for  and  admiring most.
All my yoga & philosophy teachers where there in the right moment  with their specific inspiration and support -  and they are all in my heart. There where so many great teachers. I just remembered Liesel Goltermann for example, a great german yoga teacher, a student of van Lysbeth, I think the first westerner who met Pattabhi Jois. I met her when she gave a great workshop in the age of 93.
But even it is not possible for me to follow only one way,  i might say, the yoga teacher of my heart is Sri Sribhashyam,the youngest son of Krishnamacharya. He has been so clear, precise unwavering and profound, and at the same time he could lough like a child. I feel lucky and grateful I met him and sad that I could not learn earlier or longer from him. At the same time – I love the Ashtanga Flow – and I am specially thankful to Rolf Nauvjocat, who introduced me in Ashtanga and led us many winters, spreading love and humbleness. Also, when you practice over 8 years intensively with a teacher - which I did with Sharath Jois, devotion may grow in your  heart and you are connected and thankfulness is the bliss - whatever mind play you may have along the way.
I am inspired by books and biographies of spiritual searchers and masters - there are so many – like Yogananda, Ramana Maharshi, Ramesh S. Balsekar, whom I met personally, Swami Rama, Osho, Baird T. Spalding, David Hawkins, Murdo MacDonald Bayne – and so many more. The latest "Training del Alma" I did in Spain, was with Avi Hay and he opened a new dimension of connecting to the source of life. I loved his approach and his immense background and simplicity at the same moment.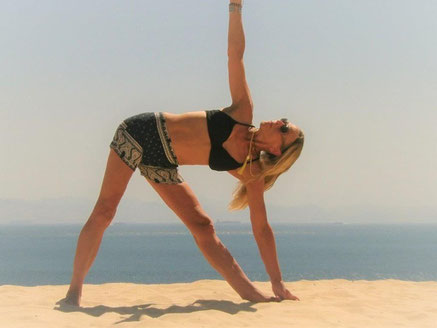 ·    R.A: What is your thought about the fast development that the yoga world has experienced in the last few years?
Andrea: Everybody will experience what he or she is searching for in Yoga at the specific moment, and the main thing is that it supports your life in a positive way, that it gives you an impulse to live your life more happily. If a person is spiritually interested, he or she will find a way to live this seeking. I think you can better learn from personal transmission, as from videos. But at the same time, I myself learned just from books in the beginning.
Every way is nice, that brings you to spend some time of the day still, reflecting, connecting with the pranic energy of consciousness and love, through a prayer, deep breathing or a meditative practice.
There were always only few seekers of the truth. And you can not judge what is behind the labels.  We all start, we all are searching, we all want to live a peaceful life. When we are searching for Yoga, unconsciously or consciously we are searching for that which is behind the material – that, which can help us to understand ourselves deeper and connect us to the spiritual dimension of life. We just could be aware what we choose, a mere workout or a spiritual practice.
·    R.A: Recently you have made the decisión of moving to Southern Spain, where you have been coming for years to spend time and host yoga retreats, Why did you make the decisión of moving here?
Andrea: It may be 30 years that I had the wish of moving to the South of Europe. I love the sea, the nature, the  light, the warm climate and the many open hearts in Andalusia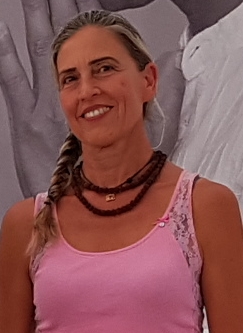 ·    R.A: What piece of advice would you offer to anyone who is at the starting point of their practice?
Andrea: If possible, try some different courses and teachers, and find the one where you experience profound and systematic teaching and also joy and humbleness. Where you can ideally go 3-4 times a week and  imagine to stay and learn with the same teacher for many years. Mostly, like everywhere, its love on first sight.
·   R.A:  And what would you say to those who struggle with the ups and downs of setting a regular practice in their lives?
Andrea: In my teacher training courses I would give a schedule for some weeks. You would choose what and when you want to do your practice. It does not matter how much it is and when.
May be 3 times a week 1 ½ hour, or everyday, ideally in the morning, just 20 minutes.You would choose what and when you do your practice. Maybe you want to do a prayer and some asanas in the morning.
Then may be 2 extra sessions a week with Pranayama in the afternoon. And also some reading about spiritual topics should be there.
After the week you make some notes how you felt (may be you  can report this 2 times a week), and costumaize the plan for the next week accordingly. Maybe you want to do less or more, may be you want to do Pranayama in the morning and asana in the evening, or the practice fits to you and your family better at an other time.
In general, when you find, you feel better, you want to keep it.  If  it does not taste good, you may not need it for now - when we are not thirsty we do not drink. Most students made it to a  regular practice in this way.
Another fact is, that practicing alone is difficult for many people. So better have a yoga shala where you can go early in the morning and practice with others. Or meet  regularly with a friend. I did this in the beginnings. You do not feel, to be the only crazy one to get up and do your practice.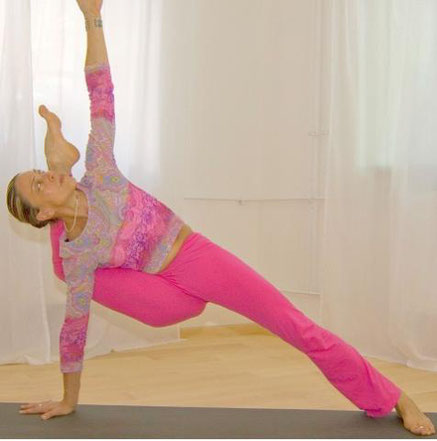 ·      How do you envision your yoga at this point of your life?
I am happy that I learned in that wide field of Krishnamacharya´s students.
So I am able to adopt my ashtanga-practice to my specific needs. It is a field of encounter and experience with myself every morning on the mat. Mostly I have an idea the evening before or a plan in the morning what I want to do. I introduce Mudra and Pranayama sessions following the teachings of Sri Sribhashyam, and try to find out what could be a balanced practice in the age of 60.
I am loving the Ashtanga Flow, but I am practicing parts of it and add  some more of Pranayama and Meditation. I am happy to have that tool for me, to live my life in a better way. Life for me, is often a great challenge. Even, I am failing everyday in the spiritual quest,  I hope  to go deeper step by small step, and stabilize the link to the God, for which this yoga practice is designed. In meditation we feel this state of being, where all is perfect like it is – just thankfulness, love and grace.
There are no  thoughts no projections. To bring this in the daily life – the trust, the truth, the light beyond – a shift - this is the aim.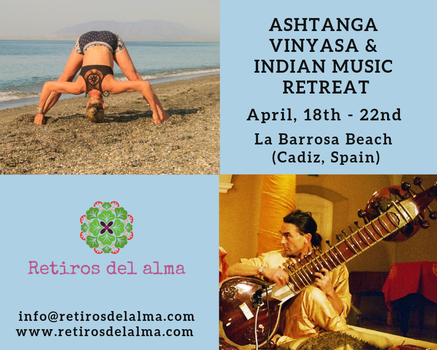 We want to thank you for your time and dedication to  the spread of this ancient philosophy.
It is a pleasure for Retiros del Alma to host an Ashtanga retreat in our space in Novo Sancti Petri and to have you as the guest teacher, I am sure we will all learn a lot and this will help our practice whatever level we are .
R.A: Thanks from our hearts. Namasté.
Andrea:Thanks from my heart! Namaste!
By Cristina & Esther (Co-Founders of Retiros del Alma)